Summary of Chinese automakers' Oct. sales
Shanghai (Gasgoo)-From the time being, China's auto market has been mired in sales downturn for 16 straight months. Affected by overall sluggish market climate, quite a few automakers in China also suffered prolonged decrease, while there were some companies, such as Great Wall Motor, Geely and Chery Holding, still performing against the general cooling trend.
SAIC Motor
SAIC Motor said its Oct. auto sales fell 9.55% from a year ago to 544,391 units. Meanwhile, the total sales volume for the first ten months of the year represented a double-digit growth.
All top three subsidiaries by monthly sales posted year-over-year decrease in both Oct. sales and year-to-date sales.
The champion SAIC Volkswagen clocked a 6.39% decline in Oct. sales, versus 5.8% drop for September. The joint venture with Volkswagen Group was the runner-up among China's automakers by the Oct. wholesale volume of locally-produced PVs, according to the China Passenger Car Association (CPCA).
(Photo source: SAIC-GM)

SAIC-GM faced double-digit decline in both Oct. sales and year-to-date sales. The joint venture offered the first glimpse of the Cadillac CT4 in late October, which is scheduled to hit the market next year.
Besides, the group said the Oct. sales of its self-owned PV unit, SAIC Motor PV, edged up 0.86%, showing year-on-year increase for the fourth month in a row. Of that, Roewe and MG brands sold roughly 35,700 units and 24,700 units respectively.
Dongfeng Motor Group
Dongfeng Motor Group's Oct. auto sales reached 262,540 units, edging down 1.93% year on year as a result of the PV sales downturn.

Last month, the group's PV sales dropped 3.37% from a year ago to 225,387 units, even though CV sales rose 7.77%.
Of that, car sales grew 6.43% to 117,252 units, while the 12.03% and 13.02% decline in SUV and MPV sales still brought down the total PV sales.
For the first ten months, the group still posted a decline of 4.2% with 2,358,532 vehicles sold in total. Still, the PV unit was the drag on total sales.
(Photo source: Dongfeng Nissan)

Dongfeng Nissan saw its Oct. sales climb 2.11%, and its year-to-date sales were a bit more than that of the year-ago period as well. Besides, Dongfeng Honda also attained growth in both Oct. sales and Jan.-Oct. sales.
The decrease in Dongfeng Renault's monthly sales was contracted to 52.16% in October from 76.07% in September, while still remained high.
GAC Group
GAC Group has been suffering downturn for four straight months as of October, 2019.
After ten months through October, the automaker sold 1,680,708 vehicles in total, posting a year-on-year decrease of 4.35%.
The group's year-to-date PV sales fell 4.04% to 1,678,347 units. Of that, SUV sales were 681,586 units, tumbling 23.16% over the year-ago period. Meanwhile, both car and MPV sales represented double-digit growth.
GAC Honda was the sales champion among all subsidiaries with 65,392 units sold in Oct. and 638,788 units sold so far this year. To be specific, year-to-date sales volume of the Accord and the Crider amounted to 185,186 units (+36%) and 128,204 units (+64%).

(Photo source: GAC Toyota)

GAC Toyota recorded a growth of 16.52% in year-to-date sales. The two main contributors were the Camry and the Levin, with 150,741 units and 180,502 units sold after ten months of the year, up by 10% and 14% respectively.
GAC Motor had suffered its fourth-month-in-a-row decrease by October. For the first ten months of 2019, the group's self-owned PV arm got its sales plunge of 30.42% to 306,685 units.
Changan Automobile
Changan Automobile announced its auto sales in October edged down 0.9% year on year, the smallest decrease the automaker posted so far this year.
For the first ten months, the company saw total sales slump 21.5% to 1,389,897 units. However, the decrease in year-to-date sales has been continuously shrinking since May, 2019, according to the sales data of previous months.
Last month, sales volume of the automaker's self-developed vehicles reached 123,713 units, which happened to rise 6.6% both year on year and month on month. The year-to-date volume has exceeded 1 million units as of October, according to a statement posted on Changan's WeChat account.
(Photo source: Changan Automobile)

To be specific, Oct. sales of the CS75 and the CS35 SUVs were 25,189 units (+68.2%) and 13,338 units (+62.8%). The two hotter-selling SUV models should be accountable for the overall increase. Meanwhile, Changan Automobile also sold 7,207 CS55 SUVs and 9,123 EADO cars.
Geely Auto
Geely Automobile Holding Limited (Geely Automobile or the Group) said on Wednesday that it sold 130,180 vehicles (including Lynk & Co-branded vehicles) in October, gaining a year-on-year growth of roughly 1% after a three-consecutive-month downturn. Compared with September, the automaker achieved a double-digit increase of 14%.
Among vehicles sold last month, 10,294 units were new energy and electrified vehicles (NEVs), keeping rising from a monthly low of 4,476 units for July, the first month after the new stricter NEV subsidy policy coming into effect.
(Photo source: Geely Automobile)

The hottest-selling NEEV models in October were the Emgrand GL PHEV, the Jiaji MHEV and the Geometry A, which together accounted for around 66% of the total NEEV sales.
With 1,088,290 vehicles sold so far this year, the automaker has fulfilled 80% of its revised goal.
Lynk & Co brand saw its Oct. sales reach 14,038 units, the highest level for the past twelve months. The Chinese-Swedish auto brand has released the photos of the Lynk & Co 05 coupe SUV, which is said to hit the market in the first half of 2020.
Great Wall Motor
The Chinese biggest SUV and pickup manufacturer said its Oct. sales climbed 4.48% from a year ago to 115,015 units, which made this year's cumulative sales total 839,128 units (+6.66%).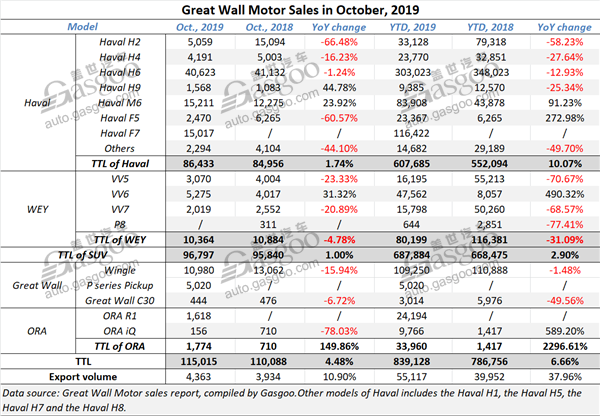 The mainstay SUV brand Haval saw its Oct. sales volume edge up 1.74% year over year, versus the 22.14% growth in Sept. volume. The smaller increase partly resulted from the larger decrease in the sales of the Haval H2 and the Haval H4. Besides, the Haval F5, which hit the market in late September of 2018, was for the first time available for calculation of sales growth, while it failed to outsell the prior-year period, which partially led to the weaker growth as well.
(Photo source: WEY)

WEY, a SUV brand embodying GWM's ambition to move upscale, sold 10,364 vehicles (-4.78%) in October. On October 22, the brand saw its 300,000th vehicle come off the production line at GWM's Xushui plant, a milestone for China's indigenous premium brands.
Last month, the combine sales of the ORA R1 and iQ EVs reached 1,774 units. For the first ten months of 2019, the young NEV brand had sold 33,960 vehicles in total.
Chery Holding
Chery Holding reported an auto sales volume of 70,300 vehicles for October, up by 2.9% month on month and climbing 5.2% year on year. This was the highest figure Chery created so far this year.
For the first ten months, Chery Holding sold 577,000 vehicles in total, of which the sales volume of its self-owned models rose 6.7% from the previous year.
(Photo source: Chery Automobile)

The group said the sales of the all-new Tiggo 8 and the Arrizo series continued to exceed 10,000 units in October. Driven by their rising impetus, Chery Automobile accomplished a double-digit growth of 14.3% in Oct. sales.
Jetour, a car brand under Chery Commercial Vehicle, witnessed its sales zoom up 54.3% from a year ago to 14,008 units last month. Compared with September, the brand also achieved a slight growth of 1.8%. The sales volume of its mainstay model, the X70 series, had exceeded 10,000 units for the third month in a row.
BYD
BYD reported a 15.19% year-on-year drop in Oct. sales as its NEV sales were more than halved over a year ago.
Last month, the automaker sold 41,130 vehicles in total. The double-digit decrease was entirely attributed to the plunge in NEV sales. With 12,567 units sold, BYD's NEV sector suffered a year-over-year slump of 54.58%, which completely offset the positive contribution from the oil-fueled vehicle business.
Up until now, BYD has been seeing year-on-year shrink in NEV sales for four consecutive months. However, the year-to-date sales still jumped 19.93% thanks to the vigorous growth for months before July.
(Photo source: BYD)

The sales volume of oil-fueled vehicles surged 37.12% over the previous year, while the growth in Jan.-Oct. number still remained negative.
As for the monthly performance of specific products, the sales volume of the Tang, Song and Qin families amounted to 5,766 units, 22,803 units and 3,761 units, growing 10.2%, 4.6% and 74.93% compared with September. Besides, 3,072 vehicles from the Yuan family were sold last month, said BYD.
JAC Motors
JAC Motors sold 32,718 vehicles in October, a decline of 2.44% compared with the same period last year. Total sales in the first ten months dipped 10.52% to 353,534 units.
Due to the downturn in MPV and car businesses, PV sales fell 17.07% to 11584 units last month despite a 22.46% year-on-year jump in SUV sales.
(Photo source: JAC Motors)

Among the PVs sold last month, 3,499 units were BEVs, nearly halved from the prior-year period. However, Jan.-Oct. pure electric PV sales still leapt 17.69% to 52,527 units.
Export volume displayed a drop of 5.45% in October. The group exported 39,697 vehicles through October with a plunge of 42.63%.
上一篇:Desay SV forecasts boost in Q3 profit
下一篇:适用于标致小狮子打怪兽车尾标志贴301 308 408 508 打怪兽车贴